Hydraulic dampers, decelerators, shock absorbers Decelerator with variable adjustments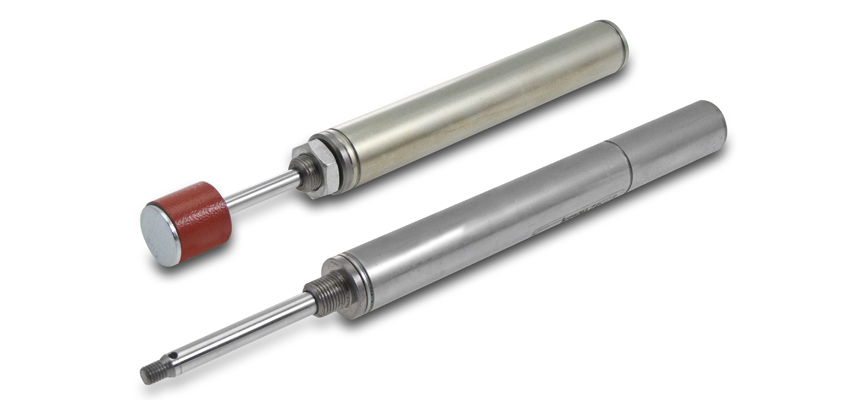 In applications that require the slowdown of the linear movement of a mass (a sliding door, a hydraulic control lever etc) for downward movements (a door opening downward to slow down) or to damp the oscillation of the suspensions of a machine (an industrial washing machine as an exampe) hydraulic dampers, decelerators and shock absorbers are used.
This range of products consists of a cylinder, a chromed piston rod coupled to a piston sliding through a sealed guide. The attachments are quite similar to those treated in the end fittings catalogue with integration of some bushings made ​​of metal and rubber needed to absorb the vibrations in the case of shock absorbers (silent block).
Unlike gas springs inside the cylinder is present oil that manage the slowing function of the stroke. The behavior is defined by the passage holes present on the piston that may give precedence to a braking effect in compression, in extension, in both directions.
Decelerator with variable adjustments:
Braking mainly in extension
Braking mainly in compression
Bidirectional
Adjustable setting (AS range)
Decelerators are indicated in all applications where it is necessary to slow down a mass in a horizontal movement (linear).
The series AS 20 provides a positioning of the piston rod through a magnet screwed to the shaft.
The series AS158 provides a repositioning of the rod thanks to a mechanical spring inserted into the cylinder.
Area of applicability
Sliding doors in furniture industry (softclosing systems)
Fire doors
Saws and cutters
Doors and protection
Agricultural machinery
Automation
Other industrial uses
Product codes