Hydraulic dampers, decelerators, shock absorbers Shock Absorbers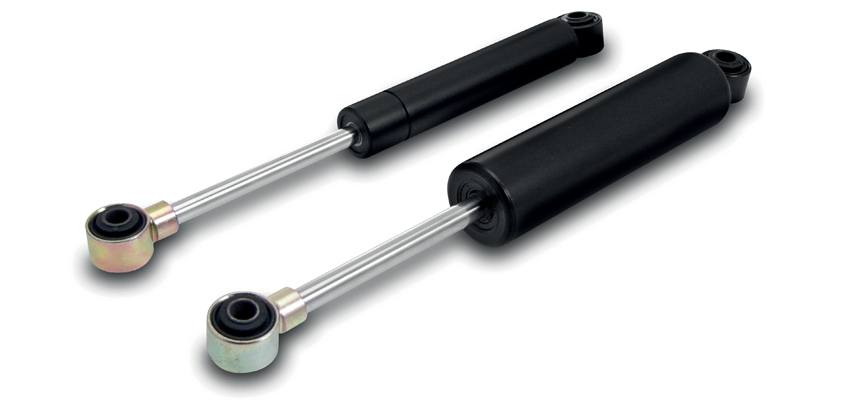 In applications that require the slowdown of the linear movement of a mass (a sliding door, a hydraulic control lever etc) for downward movements (a door opening downward to slow down) or to damp the oscillation of the suspensions of a machine (an industrial washing machine as an exampe) hydraulic dampers, decelerators and shock absorbers are used.
This range of products consists of a cylinder, a chromed piston rod coupled to a piston sliding through a sealed guide. The attachments are quite similar to those treated in the end fittings catalogue with integration of some bushings made ​​of metal and rubber needed to absorb the vibrations in the case of shock absorbers (silent block).
Unlike gas springs inside the cylinder is present oil that manage the slowing function of the stroke. The behavior is defined by the passage holes present on the piston that may give precedence to a braking effect in compression, in extension, in both directions.
In the shock absorbers is also present a valve mounted on the piston that manage the maximum passage of oil when damping force exceed the defined damping force.
Shock Absorbers:
Customizable damping force
Braking Mainly in compression
Braking mainly in extension
Double acting
The Vapsint industrial shock absorber are indicated to damp the oscillation of the suspension of a machine.
The settings can be customized according to the customer's application.
For minimum dimensions and sizes contact our sales offices.
Area of applicability
Industrial washing machines
Ladder rack
Motorhomes
Leasure vehicles
Other industrial uses
Product codes